Watershed Manager – Charlotte Asplind, AAg
Charlotte Asplind, AAg joined the CRVWA on December 14, 2014 as the AEGP Technician and soon transitioned into taking on additional duties as the Watershed Technician. During September 2017, Charlotte transitioned into the role of Watershed Manager. Charlotte has a Bachelor of Science in Environmental Biology from the University of Saskatchewan and is currently working towards her designation as a Professional Agrologist. Her studies during university focused on ecology. She grew up on her family farm and now raises sheep with her husband near Gronlid. Charlotte enjoys bringing her education, agricultural background, and passion for the environment to her position as Watershed Manager.
Charlotte can be reached directly at 306-920-7228 or crwatershed@gmail.com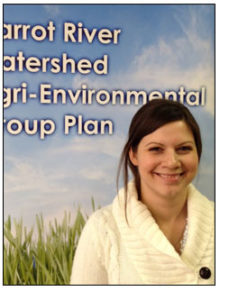 Agri-Environmental Intern – Connor Dennehy
Connor Dennehy joined the CRVWA in October as the Agri-Environmental Intern, a position he will serve in until April 2018. He holds a Bachelor of Science in geology from the University of Calgary, and is currently fulfilling the practicum component of an applied degree in Geographic Information Systems (GIS) from the Southern Alberta Institute of Technology. Though he grew up in Vancouver and Calgary, he is adjusting quite nicely to small town life in Melfort. Connor thoroughly enjoys his role at the CRVWA as it allows him to engage his interests and skills in hydrology and GIS, and to contribute actively to source water protection – an issue for which he cares deeply.
Connor can be reached directly at (306) 920-8166 or crwatershedintern@gmail.com